Make your event or occasion exclusively memorable on board! Whether you want your casual private gathering to be unique, or you're planning for the event of your dream, let's discover together how we can customize your special day or even a full week journey aboard.
When you decide to organize your happenings on a luxurious yacht, anchored in one of Athens's enchanting marinas or cruising on the clear Greek waters, rest assured that your experience will instantly become breezy and dreamy, from planning to execution. A trusted team of experts and professionals is naturally available to cater to your needs, offer you relevant advice, guide you through the planning process, and customize your event.
Corporate Events
Impress your partners or show appreciation to your team in a breathtaking setting. Choose the ideal vessel for your corporate gathering and a dedicated professional crew will help you captivate your guests with a memorable getaway. A fully equipped yacht, with an experienced captain and exceptional personalized services, will complete your trip into the sea, amidst the most rewarding sceneries. Ideal for a conference, team building activities, important meetings, product launches, fashion shows and so many other business occasions, a day on board will add glamour and value to your fruitful activation.
Creating Splendid Memories
How about a friends & family escape at sea? This one does not have to wait for an occasion! Aboard a yacht, on the Greek waters, is the perfect place to create unforgettable moments and spend quality time with your loved ones while enjoying high-end services and amenities. You can plan your day or several days' cruise with the professional assistance provided to make your trip as personal and enjoyable as it can get, with water toys and tools catered to your hobbies, and a schedule to the mesmerizing Greek islands. Unwind, tan, have fun, and enjoy exquisite meals & drinks on your private vessel.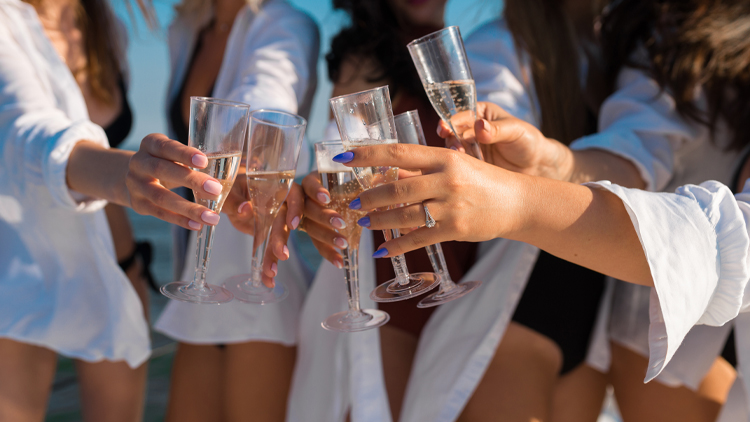 Celebrating Love
The sea will make your special day even more fascinating than you can imagine! Plan your wedding events on board too. From a tailored bachelor(ette) party to a unique big day, and an undeniably unforgettable honeymoon, the experts aboard will make the most important voyage of your life as magical as your dreams. Whether you choose to set on a quiet harbor or decide on cruising while you celebrate love, a well-trained team will take care of your requirements and make this wonderful time memorable for you, your guests, and your life partner. The experts will support you with planning, organizing, securing the right catering and photography & videography services, and guaranteeing immaculate care for your special occasion. The natural hypnotizing views and refreshing feel of the turquoise waters alone will add the theme you're looking for!
Aiming to reach all your expectations, 7seas Maritime offers a variety of packages for newlyweds, lovers, friends, organizations and much more! With these special accommodations, you can guarantee unique and exclusive events only tailored for you. Learn more on: 7SEAS-MARITIME.COM.